What is an affiliate system?
The affiliate system consists of you recommending a product or service, and you receive a commission each time someone buys thanks to you. The commission is usually around 6% but it depends on the company you use.
To let the company know which users have purchased with your help, an 'affiliate link' is used. The mechanism is simple:
When you sign up for an affiliate system, the company provides you with an affiliate link that belongs only to you.
So, when a user of yours clicks on that link, the company already knows it's coming from you.
If you buy the product or service, you get the commission.
In short: the affiliate link is the one that sends here. Without that link, the company will not be able to know if that purchase has come from your referral and you will not make any money. That's why you have to study well where to put those links and in what way.
The system as you can see is very simple: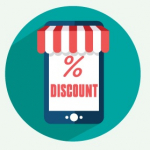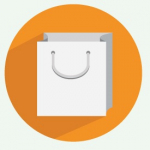 3. YOU RECEIVE
A COMMISSION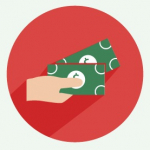 Cookies. These cookies are activated when someone clicks on your affiliate link, and allow that if the user returns later to the store and buys the product (without going through your link again), it counts as a commission. This means that they don't have to buy the product right away.
Remember:
The tracking of the affiliations is done through the cookies installed in the browsers. When a potential customer clicks on an affiliate link then the browser with which they have accessed the purchase obtains the affiliate record for a maximum of X days. This means that if during those days the prospective buyer decides to buy and use the same browser (and computer) on which he clicked on the affiliate link, he will receive the commission.
¿Cuáles son las empresas con las que puedo trabajar?
With your ByComercial website you have the possibility to be an affiliate of as many stores as you need, and simultaneously, as long as they follow the same url system
Let's compare 2 stores: AMAZON & eBAY
Advantages of Amazon
It is the store with greater reputation in Spain as far as online purchases are concerned
Great variety of products, usually at a discount and that will allow you to encourage your users to buy.
The purchase process is simple.
For the user is very careful: the products usually have ratings, there are stars, thumbnails, good descriptions, information on delivery time … This is very important not to leave us users by the way.
It is very easy to get the affiliate link thanks to a tool integrated into the affiliate platform.
Disadvantages of Amazon
The cookie lasts 24 hours, This means that if the user does not buy the product after that time, he will have to click on your affiliate link again to take your commission. But hey, there's another piece of good news: if you put the product in your cart, the cookie is available for 90 days.
The most you can earn per commission. There's no limit.
Acceptable commissions, but low. They're not entirely bad, but the limit I told you about upstairs spoils everything.
Consultation: https://afiliados.amazon.es/
Advantages of eBay:
Commission between 6% and 10%. Okay, it's not a big deal, but…
There's no limit to the commission! This means that if they buy a 700 euro product from you you will receive 56 euros, and not the measly 10 euros from Amazon.
The products are usually very cheap, more than the officers.
eBay increases your commissions if you have a good return on your account. For example, I was asked to triple the commission (30% per sale) if I continued to increase my sales – that's a very good commission!
Disadvantages of eBay
Many users prefer to buy on Amazon rather than eBay because of its reputation.
Consultation: https://centroparavendedores.ebay.es/ebay-partner-network
In short:
Amazon is more reliable and people usually buy there, but the commissions are very low.
eBay doesn't have as much of a reputation as Amazon, but commissions are unlimited and can be extended if you generate a lot of sales.
Comparison table with recommended option. We take advantage of both stores, but we recommend eBay which gives us more commissions. The best thing is that if someone wants to use Amazon because they trust it more, they also have the option there.
They are made many clicks on images, and many times they are put without an affiliate link, so make sure they all have one! I think most of them are afraid of losing positions because of putting too many links, but don't worry! You can position yourself perfectly with many outgoing links to products.
Do not sell expensive products. Especially if you use Amazon (for the 10 euro limit). If you want to sell expensive products, better do dropshipping. I dropship every time I sell an expensive product and get a low commission.
The affiliation is not as good as it seems at first, and that's because I'm going back to what I used to do: the profits are low. However, if you have a website with monthly sales, it's a good way to make passive money.
Take advantage of any discount/coupon to highlight it on banners. If the shop you use your affiliation from has a special price, tell your users. It works very, very, very well, and more so if you create an attractive image.
Take affiliate links from Amazon or eBay and avoid auctions, as this can lead to errors during the purchase process.
With heatmaps I have found that there are determined people who, by looking at the comparison table, decide and buy. Others are more indecisive and start reading the review. After reading it, they usually return to the table and click on a purchase button.
And be natural. Don't write like a robot. Let it be known that there is a person behind writing the post who has already tried the product. Don't put everything as if it was fantastic, say its advantages and disadvantages, because if not they will tell you…