1.Aftgrupo
We begin this list with Aftgrupo, a very interesting dropshipping provider with a wide catalogue available to those who want to get into the business of selling hardware items.
It offers practically any type of product, tool or element that includes both a beginner target audience and even professionals.
It offers interesting discounts in each season, as well as taking care of the whole shipping process, so we avoid headaches, especially when we are starting our project.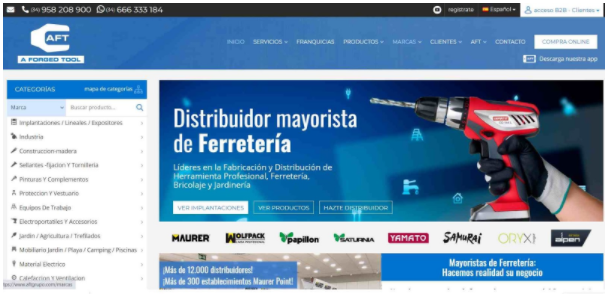 2. Aliexpress
It is one of the most popular dropshipping platforms today, as it provides customers with a place through which they can access numerous businesses of all kinds with articles and products of all possible categories.
One of the main advantages is that we can find, in one place, everything we need for any type of online shop we are going to set up.
It is important to note that this platform belongs to Alibaba, so that the dropshipping business will be carried out through them, that is, not making purchases directly as we would do if we are just customers.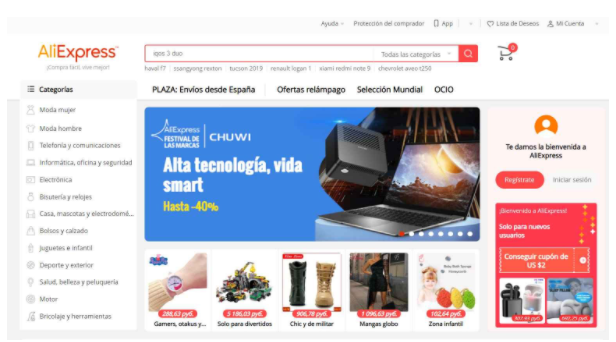 3. Auvisa
Auvisa is actually a shop located in Barcelona, specifically in Mataró, and specialises in musical instruments and accessories ranging from guitars to pianos, drums, etc., as well as sound, lighting, recording, etc.
One of the main advantages is that it offers a fairly complete catalogue, but what most attracts the attention of those who decide to carry out their dropshipping business through them is that they offer a careful and very good quality service, thus ensuring the confidence of our customers.
Of course, in order to carry out the business we have to register as intermediaries, and in exchange for this we will get very interesting discounts with which we will access very tight prices.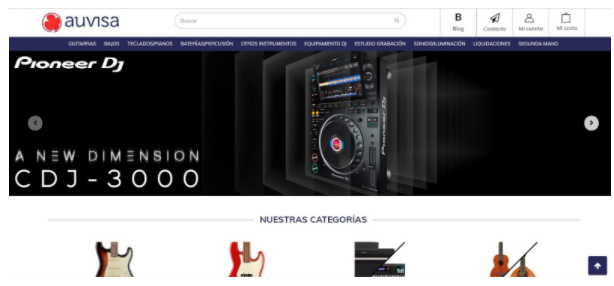 4. BangGood
We now move on to a dropshipping provider with long experience in the sector, as it has more than 10 years behind it, offering all kinds of electronic and technological products, household appliances, health and beauty items and also clothing and clothing items.
It is a very complete platform with a very extensive catalogue that is worth considering, in addition to the fact that it has proven to be perfectly adapted to this type of business and offers an optimised operation, allowing us to achieve a good image for our business.
At all times they solve any kind of doubt that may arise, so it is not only an interesting provider for an experienced shop, but it is especially ideal for those who are going to set up a shop for the first time and are still a little lost.
5. Benelo
From the Canary Islands comes Benelo, a supplier focused on the design of clothing.
In this case we are talking about something much more personal, as it is a business through which we will be able to create totally personalised garments, even giving rise to limited edition series that give a more exclusive image to our business.
It is worth mentioning that the way it works is different, since what we have to do is to contact directly with the supplier to reach an agreement about the garments, designs, etc. in which we are interested.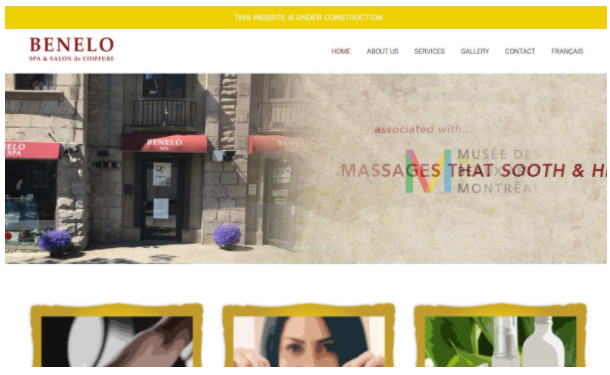 6. BigBuy
This dropshipping platform was created in Spain and has spread throughout Europe, becoming one of the most complete both for direct sales to businesses and for dropshipping, and best of all is that in recent years it has been expanding its offer, so that it currently has more than 80,000 references at our disposal.
Its main categories are home and garden, health and beauty, erotic and sex shop, kitchen, sports and leisure, perfumery and cosmetics, toys, costumes, fashion and accessories and computers and electronics.
The prices are quite good, although it is important to bear in mind that they are regulated every day, so that those products that are less in demand will always have a cheaper price, which allows us a quite interesting game when it comes to making the most of our shop.
They also take care of shipping and the whole process, taking the item to the customer but always with our image and name as if we had sent it ourselves.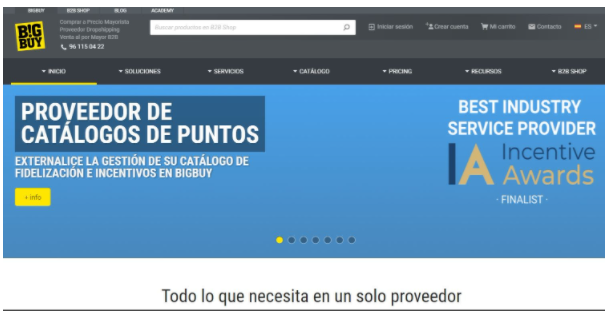 7. Brandeee
It is a platform specifically developed for dropshipping, and it takes care of the whole process so we only have to act as intermediaries during the purchase.
It also offers the possibility of shipping directly to our shop or the centre where we work, so that we can then send it to the end customer ourselves.
It has a very interesting range of brands, and specialises in jewellery, costume jewellery, home accessories and clothing.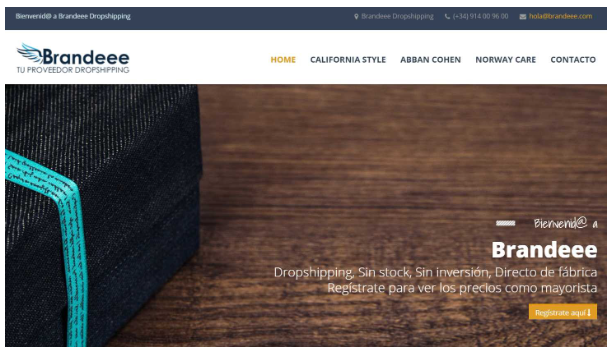 8. Chinavasion
This is one of the essential platforms for those who are planning to create an online shop for technological articles.
It offers practically any type of article that crosses our minds in the world of technology, computers, telephony, video games, car articles, garden articles, sports, health, beauty and jewellery, among others.
It should be noted that although the catalogue is quite extensive, the truth is that what we are going to find more is everything related to technology, as they are specialised in it and the truth is that the prices we can get are very good and with a very interesting sales margin.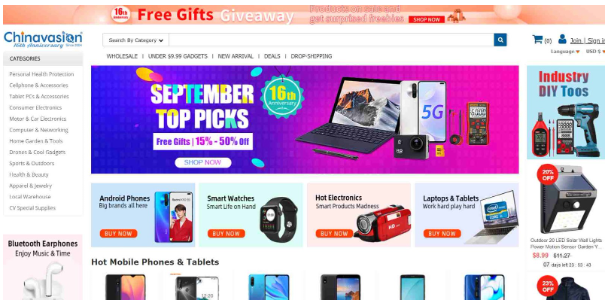 9. Codico
This is a dropshipping cosmetics distribution platform that comes from a business that was founded back in 1983.
The main advantage we have in this case is that they are manufacturers, that is, they manufacture the products themselves, so the sales margin is higher than in other cases, plus we are reducing intermediaries, ensuring a quality end product and with the assurance that the supplier himself wants to have a guarantee of loyalty from our own customers, so it will strive to ensure that everything goes to order.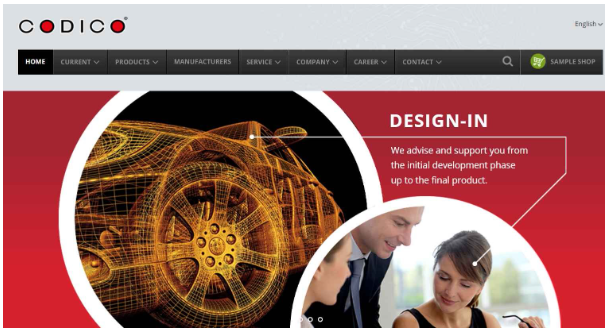 10. DealExtreme
Surely this is a name that sounds quite familiar to you, as it is in fact one of the most famous dropshipping platforms of the moment.
It is of Chinese origin and offers us a truly extensive catalogue of technology items, with many options to choose from and with the advantage that there are many good quality items, something that may be more difficult to find on other platforms.
Its price is also more adjusted, and in addition to technology items we also have an interesting catalogue in health, beauty, clothing, toys, watches, sports items, leisure items, footwear, lighting, leisure, office and many others.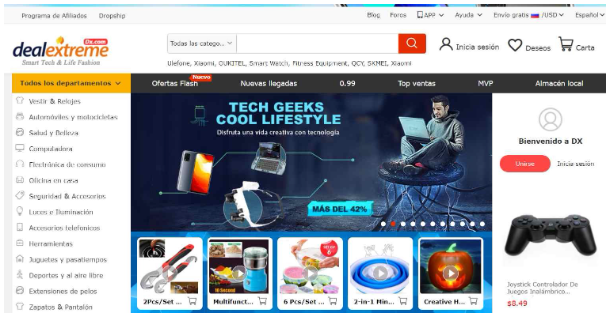 11. Dhgate
With more than 16 years of experience, it is currently one of the most popular and trusted dropshipping distribution platforms on the market.
Not in vain does it work in more than 230 countries and has around 4.5 million customers.
Although its headquarters are in Beijing, China, it works perfectly well in Spain, offering an extensive catalogue in all kinds of categories such as clothing, bags, beauty, sports, leisure, lighting, home and garden, footwear, jewellery, watches, clothing accessories, health, weddings, important events, toys, baby items, computers, electronics, telephony, electronic cigarettes, audio and video, video games, network, vehicles, office, school, instruments, tactical items, household appliances, packaging items, etc.
Originally specialising mainly in the field of technology and electronics, the company has increasingly opened up its horizons to offer a very complete catalogue with many possibilities.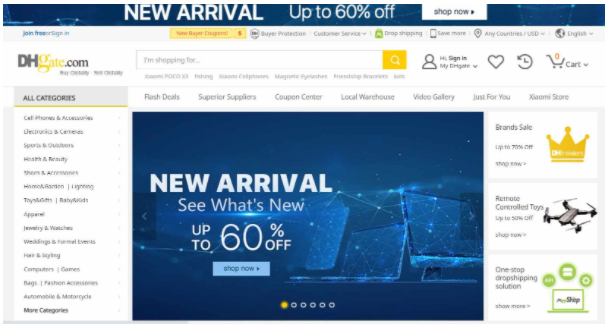 12. Distribuidor Perfumes
This is a very interesting distributor for those dropshipping businesses that are focused on the beauty and clothing category, as it offers a very interesting collection of perfumes.
In addition, it also offers the possibility of helping us in the creation of our online shop, offering a very complete service with which we would reduce the headaches at the beginning.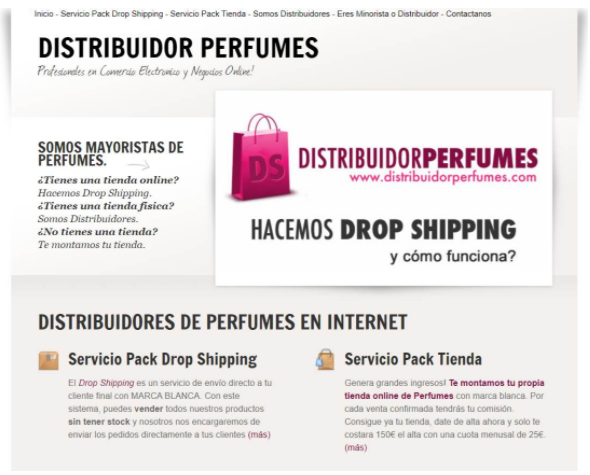 13. DMI Computer
We return again to the field of technology and we introduce you to this dropshipping platform that, with more than 30 years in the market, has become another of the references for our online shop.
It is a Spanish company that is also characterized by its fantastic customer service, which gives us a lot of strength and confidence as well as a guarantee not only to be able to meet our orders, but to offer a complete, fast and efficient service to our customers.
We must remember how important this is when it comes to building a good reputation for our online shop, as we will also depend on the speed and quality of service of our supplier to give a professional and trustworthy image.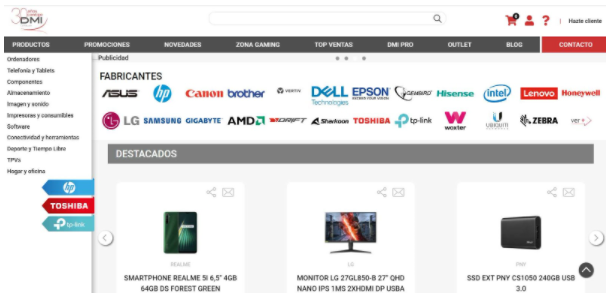 14. e-NUC
In this case we have a platform that differentiates its content into six main categories: computers, smartphones, tablets, inks and toners, home electronics and game consoles.
In each of them we can find a wide range of products and articles with more than 10,000 references to choose from.
One of the main advantages of working with this company is the fact that it is a dropshipping platform with experience and seriousness, offering an interesting commercial margin and a careful customer service, being able to solve any kind of doubt that may arise.
They ship directly to the end customer but with the guarantee that there will be no reference to their own business, thus avoiding jumping to our shop.
For this we have to pay a cost of 1.15 € per order, otherwise the shipment will be like any other customer with the reference data of e-NUC.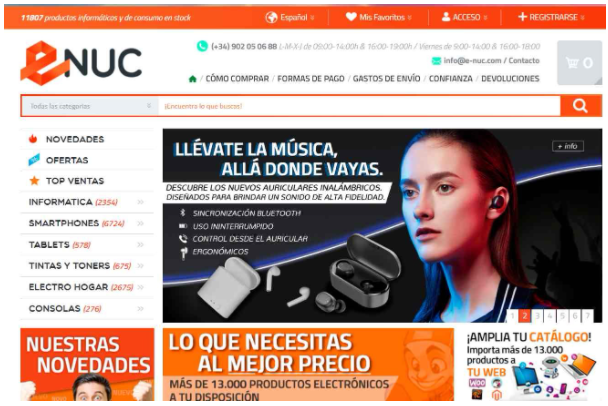 15. EuroMontyres
This is a different and less common company in the world of dropshipping, as it specialises in the sale of wheels and tyres for vehicles.
They work throughout Spain and have shops in Madrid, Castilla y León and Catalonia, with more than half a million tyres in stock, and offer express delivery services within 16 hours, 24 hours and up to 48 hours.
It has an experience of 21 years in the market, and works with all major tyre manufacturers brands, so it offers us a complete service with maximum guarantees for both us and for end customers.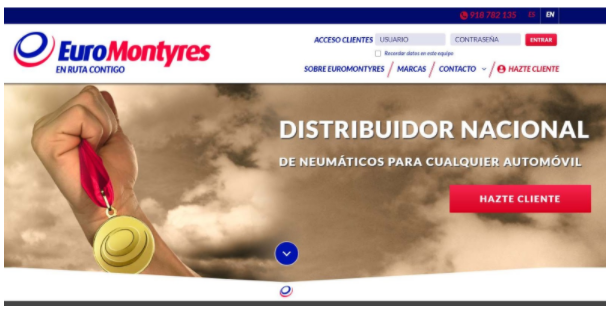 16. Gabol
This is another supplier that we also consider very interesting because they are manufacturers, so we avoid intermediaries, which means that we will be able to increase the difference or sales margin while offering the items at a cheaper price.
This time it is a Spanish company based in Valencia, and is responsible for the manufacture and distribution of suitcases, toiletry bags, travel bags, travel accessories, backpacks, wallets, cases, lunch boxes, bags, fanny packs, wallets, umbrellas, laptop cases, tablet cases, etc..
In short, it is a very interesting dropshipping supplier for travel, school, study, work, tourism and even everyday items.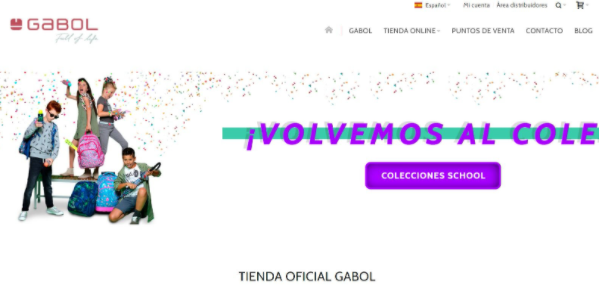 17. Garatti
Garatti is the name of a dropshipping manufacturer and distributor of footwear for men, women and children.
It offers the possibility of creating a business both on the street and online, for which it offers complete free advice with the aim of helping us to create a project that really has possibilities for the future.
It offers us the possibility of acquiring the articles based on our needs, thus avoiding making a heavy investment.
One of the main advantages is that we will have at our disposal all the sizes, models and versions that we need, since, being manufacturers, we will never run out of stock.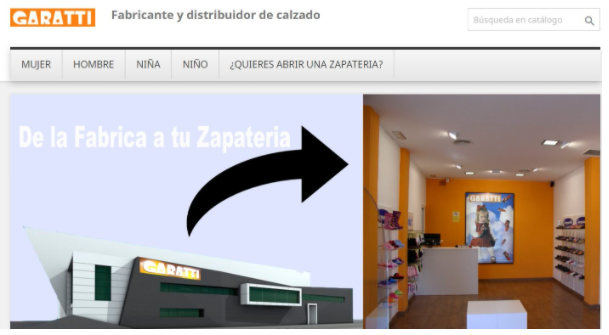 18. Globomatik
There is no doubt that IT and technology are two of the most demanded fields within dropshipping, and Globomatik is a platform that has a great experience within the sector.
This offers us two main advantages: the possibility of choosing from a very wide catalogue of products, and on the other hand, the total security that our customers will be attended with the maximum speed and diligence possible.
Within its catalogue we will find desktop computers, laptops, servers, computer components, printers, multifunction, storage units both internal and external, office supplies, telephony, video games, game consoles, electronic books, Tablets, smart watches, GPS navigators, connectivity articles, video surveillance and security systems, technological articles for smart homes, software, image and sound articles, household appliances, leisure and free time articles, readers, POS and in general everything we need to equip our online shop with the latest in technology.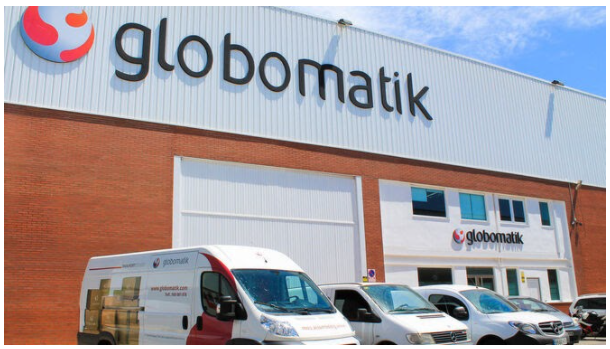 19. Helen Bellart
This is an international Spanish shop that is also a dropshipping supplier.
Its products are handmade by artisans in Spain, offering very succulent discounts of up to 40%, and it offers dresses, tops, sarongs, scarves, handbags, jewellery and costume jewellery, combinations, designer masks and a lot of accessories that are worth considering.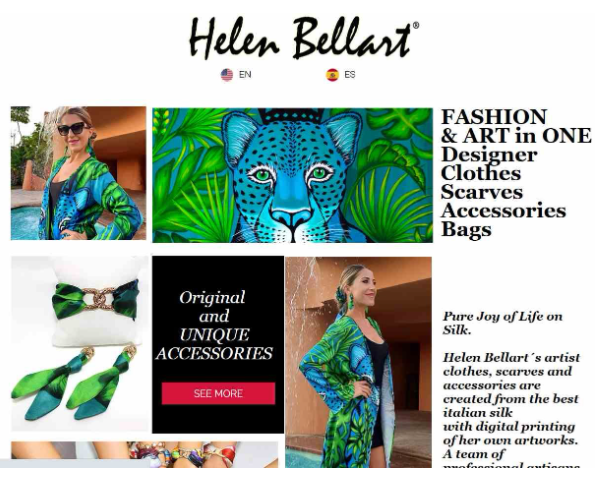 20. Kaffa Café
Supplier for dropshipping of high quality coffee.
It specialises in the wholesale of own-brand coffee capsules, offering very economical prices and allowing a really interesting working margin for both online coffee shops and for those who incorporate this product in their catalogue.
21. Last Level
A very complete and interesting supplier that has in its catalogue video games, music, board games, comics, manga, cinema, television and gift items.
It has an interesting catalogue of articles manufactured in Spain, as well as a multitude of toys, games, stuffed animals, textile articles, figures, stationery, merchandising, textiles, etc.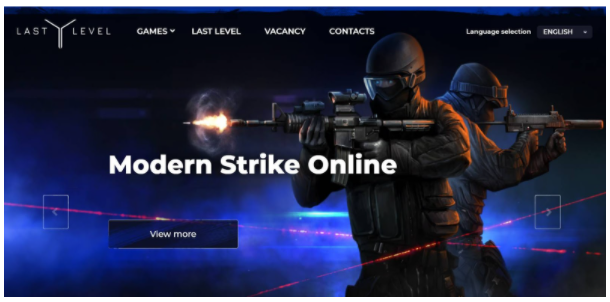 22. Mallanets
This is a Spanish dropshipping supplier based in Barcelona.
It is a specialist manufacturer of technical netting, covering a wide range of products from airsoft to construction, paintball, bulletproof vests, medical, aeronautical, marine, automotive, wind turbine and industrial netting.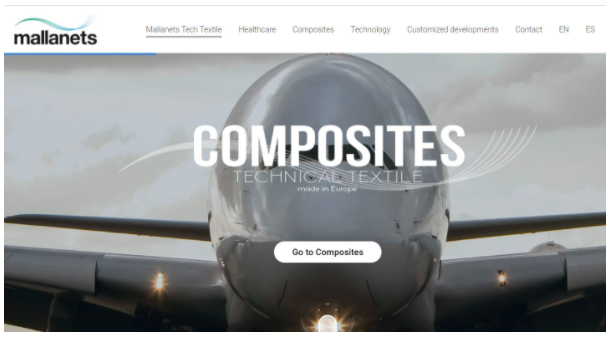 23. Megasur
This company specialises in computers and electronics and offers us another quite extensive catalogue that also includes computers à la carte and even a complete repair service.
In total, it covers a multitude of categories such as computers, telephony, peripherals, household appliances, video consoles, games, audio and video, storage, computer components, office and leisure items.
It has around 7000 references and its own technical service, thus providing a much more complete customer service.
It is a dropshipping supplier from Spain with its headquarters located in Granada.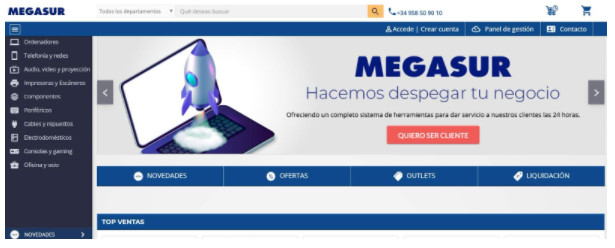 24. MiniInTheBox
This is a platform that was founded 10 years ago and currently has an extensive catalogue that has allowed it to extend its name to more than 170 countries around the world.
Its sales margin is quite interesting, and it has as many categories as we need with more than 100,000 references at our disposal.
It offers articles for the home, fashion, events, technology, image and sound, gadgets, children, babies, sporting goods, lighting, home, kitchen and in general a wide catalogue that adapts to most online shops through dropshipping.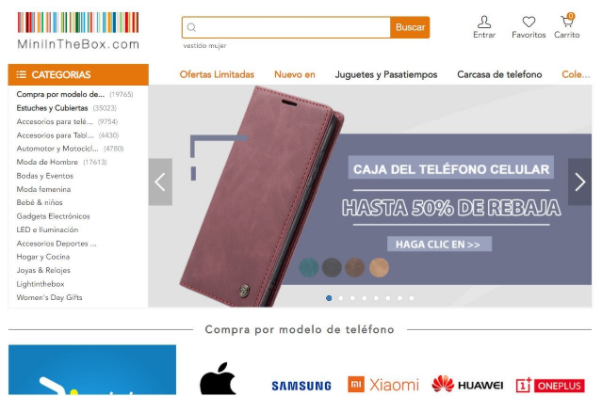 25. Mundo Nutrición
If your online shop is focused on food and sports, this provider can be a very interesting alternative to consider.
It has a wide variety of brands and products in high demand, especially food supplements.
It should be noted that the margin we will obtain per sale will depend on the volume of business we move, that is to say, the more sales, the higher the margin we will obtain, and at all times we will have at our disposal a complete advisory team with whom we will be able to learn everything we need and also expand our sales possibilities.
Delivery times are 24 hours and a maximum of 48 hours, and we can choose between different transport agencies depending on our needs.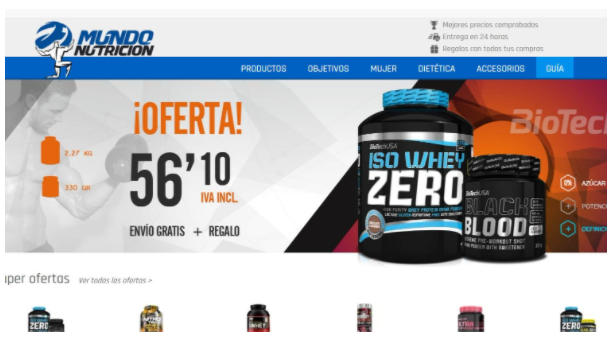 26. Nedis
This time it is a German platform that has a catalogue with more than 17,000 products.
Its portfolio of more than 50,000 customers guarantees the quality of the service, in addition to the fact that we have various categories to choose from, including sound and image, connectivity, computing, a gaming section, health, personal care and beauty, home automation and security.
It has a good response capacity, but it is important to bear in mind that shipping costs depend on the amount of money we spend on each purchase.
Thus, for orders of less than 100 € we will have to pay a total of 33,90 € for shipping and handling, up to 400 € it will be reduced to 13,90 €, and if the order is more than 400 € nothing will be charged for shipping and handling.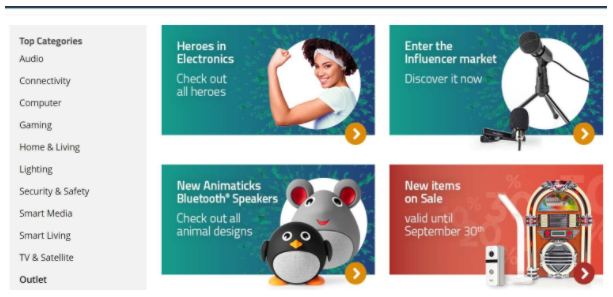 27. Oberlo
Another very interesting platform thanks to the large number of products available.
However, it has a different operation, as it does not allow us to incorporate the articles to the online shop that we have created, but we have to access a specific platform through them, so that we will also be focused exclusively on the articles that it offers us.
However, it is a very versatile platform with which we will be able to customise the products we sell to the maximum, as well as choosing from a multitude of suppliers that we will select according to our interests and experience with them.
On the other hand, shipments will be made directly to the end customer, which will save us a lot of work in this regard.
It offers us a total of three plans to choose from, one of them being free so that we can get started, although it will obviously be the most limited.
28. PandaHall
For those of you who are planning to set up a jewellery and costume jewellery shop, PandaHall can become one of your favourite platforms, as not only will we have at our disposal practically any type of article related to this field, but also the prices are very reasonable, which will allow us to increase our profits or choose to offer a more reasonable price to the end customer.
It should be noted that through this supplier we will have at our disposal pieces and all kinds of resources to create our own jewellery, so we will not only sell specific products, but we will also have the possibility of making our own exclusive and unique creations.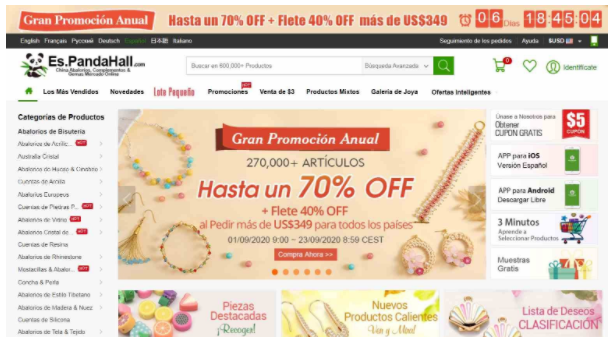 29. Printful
This is a platform that is designed above all for merchandising and for the sale of personalised items.
For example, you have probably thought about selling your own t-shirts with exclusive and unique designs, so this is the option you were looking for, as it offers a very simple and effective operating system.
All we have to do is offer the items in our shop, which include men's and women's clothing, children's clothing, backpacks, bags, mobile phone cases, jewellery, flip-flops, face masks, socks, mugs, cushions, covers, stickers, stickers, stickers, stickers and stickers, covers, stickers, posters, canvases, towels, swimming costumes, t-shirts, polo shirts, sweatshirts, trousers, shorts, leggings, skirts, sports bras, dresses, aprons, poufs, fanny packs and lots of gift items.
Once a customer is interested in any of them (remember that these items are personalised by you, with the design you have chosen), all you have to do is contact the supplier and place the order.
This company will prepare the order and send it to your end customer, with the particularity that all the details that appear on the shipment are related to you, that is to say, for the end customer it will be as if you had sent it yourself.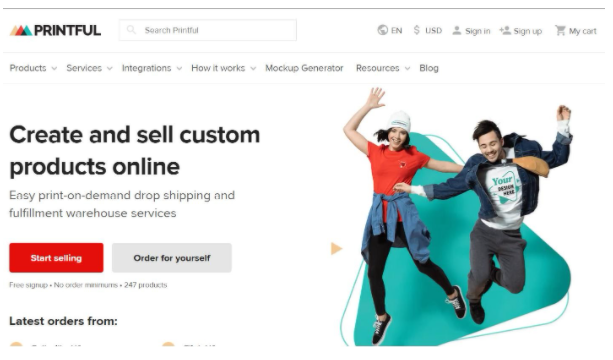 30. SheIn
This platform began its journey in 2008, already having a great experience in both the national and international market.
In this case, it is a provider that specialises in fashion and clothing accessories, with a very wide range that will help us to have a very complete shop.
However, it also includes some additional categories such as stationery, for pets, for the home, etc., so it is undoubtedly quite complete.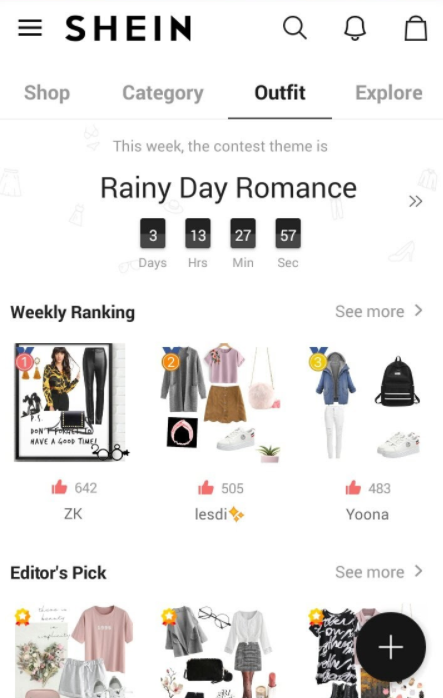 31. Todo en piscinas
This is a Spanish dropshipping supplier based in Toledo, Spain, and offers us everything related to swimming pools and gardens.
It has a fairly extensive catalogue that includes showers, lighting items, taps, solar energy heating, heat pumps for heating pools, thermal blankets, fences, covers, removable pools, jacuzzis, spas, huts, pergolas, parasols, pressure washers, furniture, canoes and items for sailing, pH and chlorine meters among others, pumps, alarms, decorative elements, saunas, items for games, pool accessories and everything we need to enjoy the pool at any time of the year.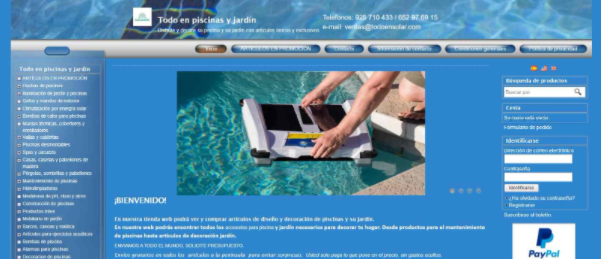 These are the main dropshipping suppliers in Spain that you should always have at hand, because through them you will have a very complete service that will allow you to create an online shop that offers not only an extensive catalogue, but also a careful service that helps to create a positive reputation for your image.