Selling on amazon is the only way to extend our sales network today, or rather sell more even if we lose margin. It's the same as having a salesman, but without worrying about training him, calling him to see how he's doing, paying him a fixed salary, and all the inconveniences he has. Amazon in return has a brand and a trust that the consumer places in this company impossible to compare with any other option.
Other alternatives?
Commercial.
As long as they are on commission, anyone would want to have commercials, but if that means "spending" time giving them information, contracts, etc… the ideal is to only have a network as you have people in a social network.
Network of stores as if they were franchises.
If we could offer products to other shops to sell them either in stock or in deferred sale (offline dropshipping) we could easily increase our sales.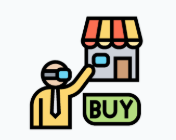 Network of own stores
There should not be a brake on your offline sales system and the complication of management should be the drawback. In addition, the business model with mini-shops is promoted because large stores will suffer the disadvantage of capacity control.
Online shop
Of course online, but in a simple way and linked to everything else. Simple and powerful: digital.
What's the catch?
Technology should allow you to do all this almost effortlessly, just like sending a whatsapp message to someone who gave you their phone but now can't answer. Simple and effective at the same time.