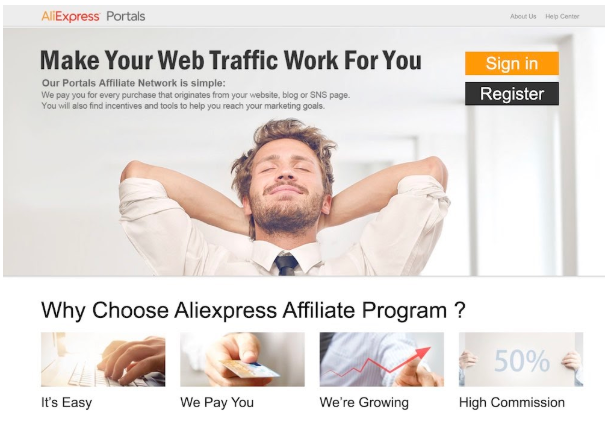 AliExpress Affiliates: Complete Guide
If you want to sign up for AliExpress we will help you take all the necessary steps, a complete guide.
We incorporate screenshots that may have changed some images when you sign up, but I guess the process will be similar.
Step 1: Register with AliExpress
To enter their affiliate system the first thing you have to do is sign up as a normal user, you can do it with any account with email or with a gmail account, facebook, etc.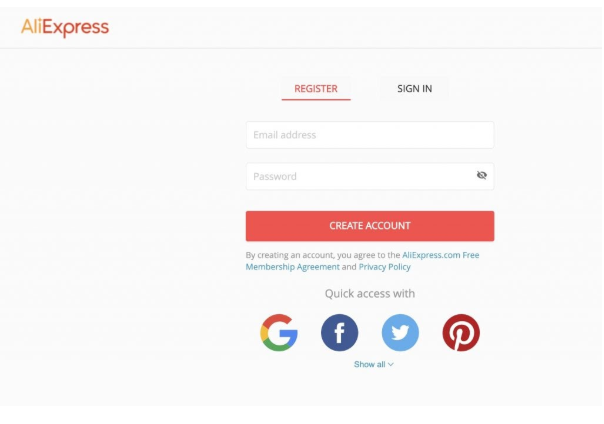 It's a first step, but it's mandatory. We recommend that you use your Google Account, so you have everything linked and don't have to be generating new passwords.
Once you create the account you get this message and enter the store page: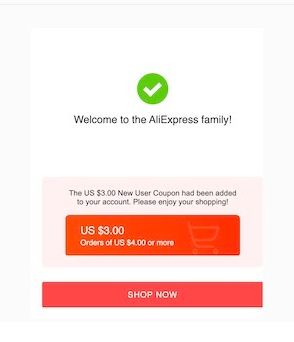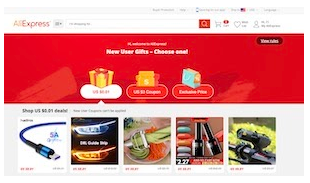 Now you may be a little lost, but the truth is on the page explain well where the affiliate zone is, where you have to log in to enter the affiliate program.

Put this address back in the navigation bar without closing the tabs: https://portals.aliexpress.com/
Thanks to this, you can now enter the AliExpress affiliate portal and save this url in the address library.
Step 2: Register in the AliExpress affiliate system
A screen appears where you have to fill in the details of your first affiliate website that you want to connect.
Try to make the data as close to reality as possible.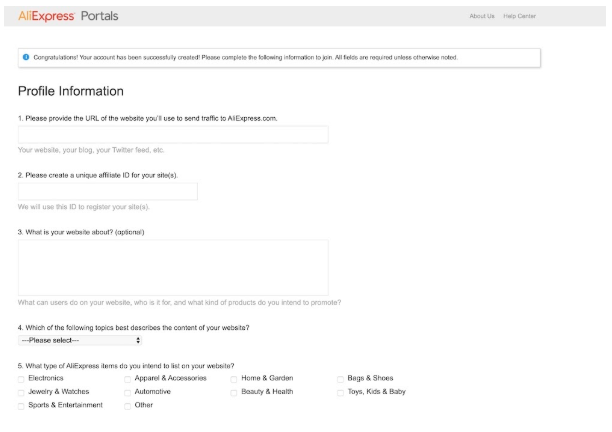 There are not many questions, and once you have filled in the form you accept its terms of use and send it to us.
Once sent we get this screen where we are told to wait to be approved.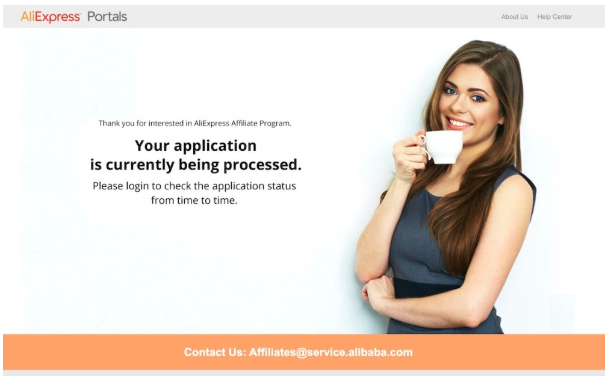 In the tests I have done, it has taken an average of three or four days to approve my accounts, so it is up to them to wait until you are approved in their affiliate systems.
But first I have to confirm by email that the account I have signed up for is mine.
Third step: Getting to know the control panel
If we have already received the good news that we have been admitted to your affiliate system, we access the url that I have put above, we put our login data and this control panel will appear.

Now you have to learn how to use it to get the most out of its features, it does not have a very difficult learning curve, unlike other platforms.
In a couple of hours you can learn to review all the options it has.
➡️ Setting Zone
This is where we can go first, to register new websites, if we have several, for this you go to the area of websites:

There you can see the data of the first page we registered, but if you go to the bottom of the page there is an option to add new sites, for now only have it limited to 10 pages, something that doesn't happen in other affiliate systems.
If we have reached the limit of the pages you will have to create another user with another email in order to put another ten pages.
Go to the second menu option, where it says Tracking ID, and that's where we can use up to 50 different IDs to create our affiliate links and get segmented statistics for each one of them.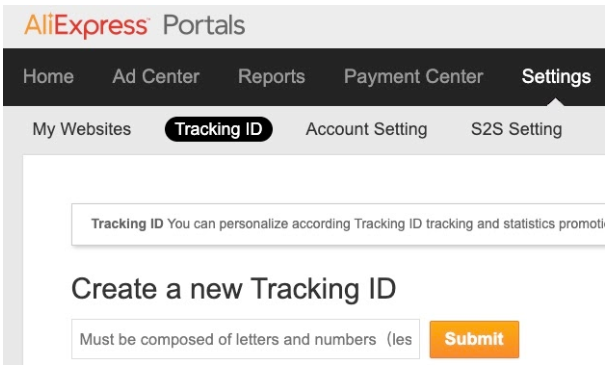 The other options I don't handle yet, since they seem to be for more advanced users who already have a lot of billing, so forget about them for now.
We have already created and registered in the system the websites and the IDs for each niche.
➡️ Payment Zone
Although we haven't sold anything yet, I like to leave the whole payment system ready. We go to the payment configuration area and we register our current account so that when we earn money, we get the income.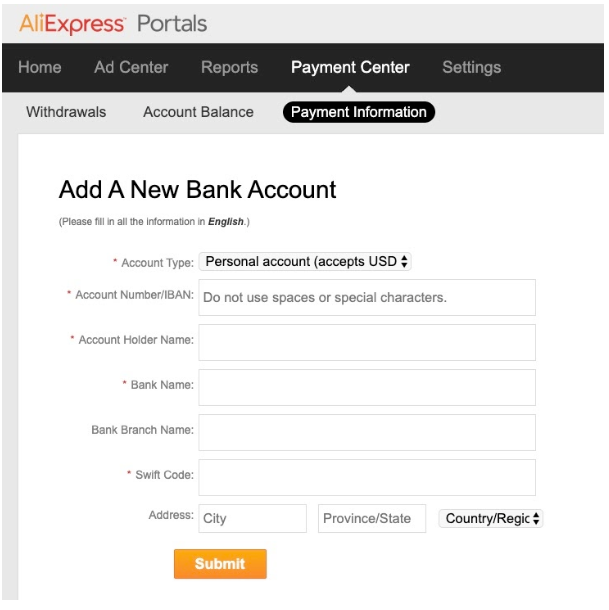 It's very easy to enter the bank details, they're in your account.
If you don't have a current account at the moment, they don't offer any other alternative, so you will have to create a new one in the bank that best suits you.
Fourth step: Putting products on our websites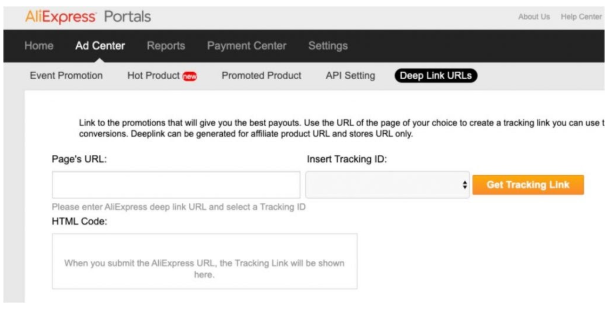 And what I do is look for the interested product in the AliExpress store.
In this case I'm looking for a vacuum cleaner robot item, which is very cheap.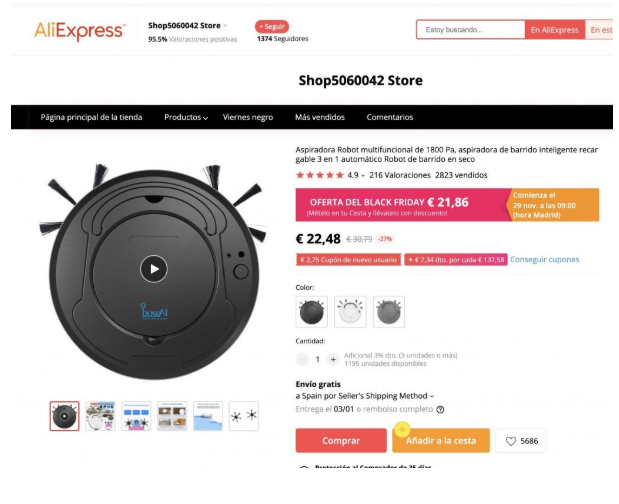 I copy the robot's url and paste it in the Page's URL box, and I find the first problem: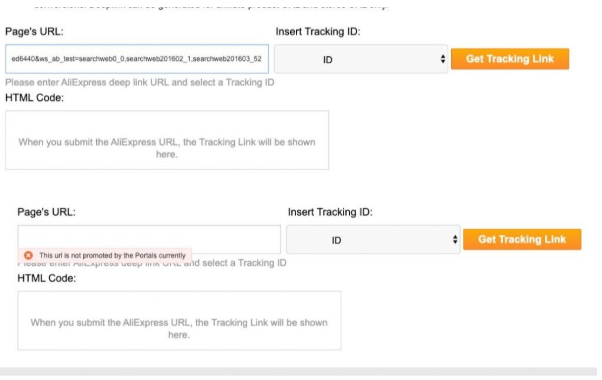 This is the biggest surprise I get from the AliExpress affiliate system, which turns out that vendors can decide whether to enter the affiliate system or not, so when selecting products you should take this into account.
If you don't have the plugin you will have to check by hand which items are in the affiliate system and which ones are not, because I haven't found in the page a button or signal that tells me that that product is in the affiliate system.
If anyone has a trick to know it I would appreciate it.
I try another vacuum cleaner robot and this one if you give me the affiliate link: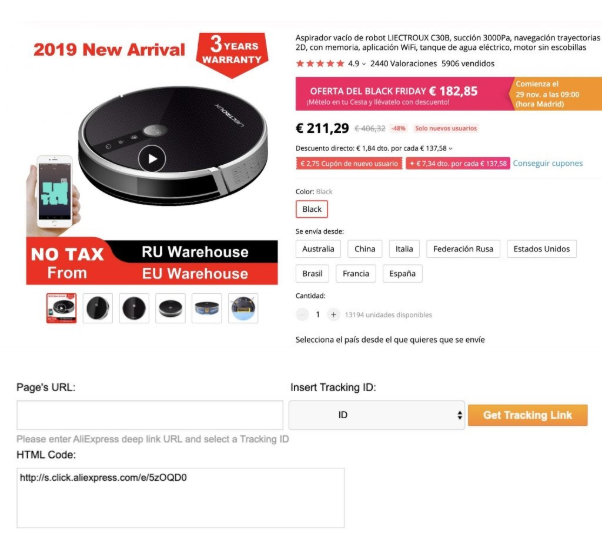 From my short experience it seems that products that look like bargains, that are very cheap and a real bargain, don't usually get into the affiliate system, they don't want to give you that 7% commission.
➡️ Copy code to a button on our page
Well, now that I have the url, I just have to assemble a nice design for my products in WordPress and insert the url to the button.
It's very easy now with the column system.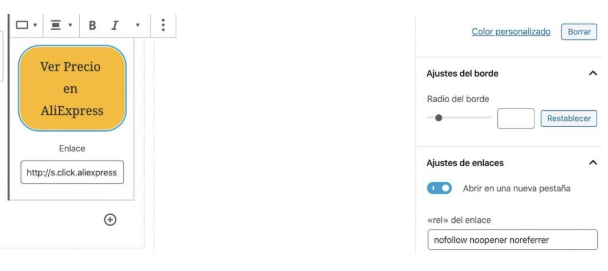 You put the link in the box, remember to check that it opens in another window and add the "Nofollow" tag that Google recommends for affiliate links.
Then repeat this several times and you have a page with Aliexpress affiliate links.
First sales at Aliexpress
Let's take a sales example.
In the Reports area you will find statistics about the behavior of users, there is a very interesting "Live order Tracking" that tells you the orders until the very moment of today.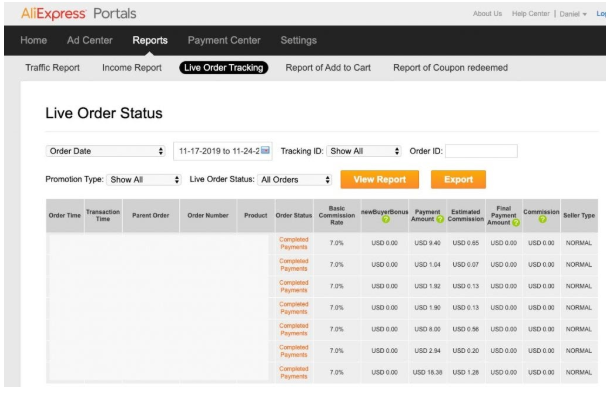 There you can see what ID you've sold.
The other graphs give you information about the type of device you have accessed and other data.
But the important thing is the sales and the commission they leave you.
This graph is important, because the one that appears generally gives you data but with a two-day delay, and many times we want to see that we have sold at this time with changes of banners, email marketing or other changes on the page.
When some time passes I will make a report on the advantages and disadvantages of AliExpress affiliates in relation to other affiliate programs.
But first I need many months of data to do a complete analysis.